Sunnyside is an inner-city community in Calgary, Alberta located on the north side of the Bow River immediately adjacent to Calgary's downtown. It is primarily a residential area with the majority of land used for single family homes, apartments and condominiums. The community partners with the neighboring community of Hillhurst to form the popular area known as Kensington.
Click Here to view the official Hillhurst Sunnyside Community Association Page.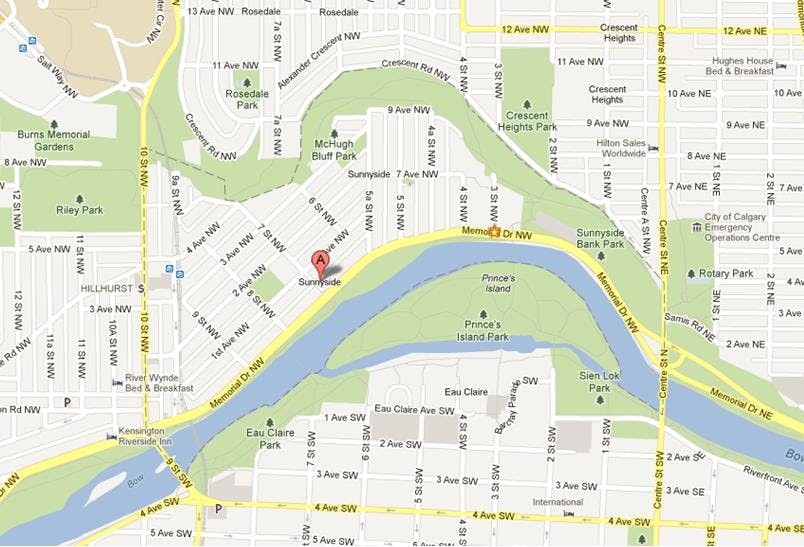 In the City of Calgary's 2012 municipal census, Sunnyside had a population of 3,704 living in 2,340 dwellings, a -1.3% increase from its 2011 population of 3,751. With a land area of 1 km2 (0.39 sq mi), it had a population density of 3,700/km2 (10,000/sq mi) in 2012. Sunnyside is one of Calgary's oldest communities. Originally settled by homesteaders in the 1880s, the land was purchased by the City of Calgary and incorporated into the city proper in 1904. Although the majority of the original residents of Sunnyside were Canadian Pacific Railway and Eau Claire Sawmill employees, the community now mainly attracts urban professionals and their families due to its quiet neighbourhood atmosphere and close proximity to Calgary's active downtown.
Sunnyside's architecture is a mixed array of designs and styles each telling a story of the neighborhood's history. Sunnyside has a blend of single-family dwellings, modern mid-rise high-density housing, neighbourhood corner stores and restaurants and walk-up apartment buildings.
In the 1920s a series of apartment "mansions" were built along Memorial Drive. These so called mansions were constructed of brick and concrete. Today these buildings are considered the pinnacle of trendiness in the Sunnyside Condo market.
The 1970s high oil prices brought a new wave of construction to Sunnyside. Many of the cottages and homes built originally for Canadian Pacific Railway workers, were torn down and replaced with one and two bedroom apartment buildings. Most of these concrete and brick buildings were upgraded and turned into condominiums.
Sunnyside has a community centre that is located in neighboring community of Hillhurst. Sunnyside's community association is known as the Hillhurst-Sunnyside Community Association and is reportedly established in 1942. Their mandate is to provide and organize sports, recreational and social activities, and act as an advocacy group for the community's interests on planning and other civic issues.
From Wikipedia.
Check out the following video to see beautiful sunnyside in the summertime!