This year's report indicates Canada's average residential sale price is projected to increase two to three per cent in 2015.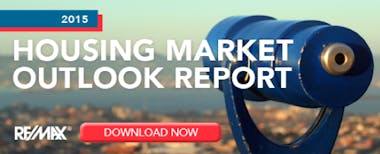 Most regions posted modest gains in average residential sale price, despite increased inventory in many of Canada's housing markets. Residential property markets in Toronto, Vancouver and their surrounding areas, as well as Calgary and Edmonton continued to see prices and sales rise. The greater areas of Vancouver and Toronto saw inventory of singlefamily houses remain at a record low, while demand continued to climb. Prices in these markets are expected to continue to increase in 2015, by approximately three per cent in the Greater Vancouver Area and four per cent in the Greater Toronto Area. Healthy gains are also anticipated in Kelowna (7%), Victoria (4%), Windsor (5%) and Moncton (6%).
Outside of B.C., Alberta and some areas of Southern Ontario, higher inventory levels was a significant trend characterizing much of the Canadian housing market in 2014. In some markets, the long, cold winter and late start to the spring season created a build-up of listings on the market, which continued to have an impact throughout the year, but also resulted in higher than usual activity in the fall as buyers came back to the market. In many cities in Canada, notably St. John's, Quebec City, Ottawa and Halifax, increased construction over the past several years contributed to an increase of inventory. However, with construction of new buildings winding down, inventory levels are expected to balance within the next couple of years without having a notable impact on property prices.
With an increased supply of inventory on the market going into the new year, the average sale price is expected to remain stable or rise modestly in most cities in 2015. Montreal (1%), Quebec City (1.5%), Ottawa (1.6%) and Sudbury (1.6%) are expecting a modest rise in average residential sale price, while little change in prices is expected in Winnipeg, Saskatoon and St. John's.
Condominiums continued to grow their share of the market in many regions. In Toronto and Vancouver, higher prices and limited inventory for single-family homes mean that condominiums are becoming a practical choice for many young buyers looking to enter the market. In Montreal, Kingston, Burlington, and Victoria, condos are increasingly attracting Baby Boomers looking for affordability and amenities within walking distance.
Many first-time buyers continued to feel the impact of the Canada Mortgage and Housing Corporation's tightened lending criteria, which were revised in 2012. The new mortgage lending regulations have delayed the entry of first-time buyers into the market in many regions, thus slowing down the rest of the market. Regina and Saskatoon were exceptions; well-paying jobs and a good availability of affordable options meant that young buyers were typically able to qualify for a mortgage for their choice of home in these markets. The new mortgage rules will likely have less of an effect in the coming year as buyers adapt to the new regulations and make the necessary changes to meet the criteria.
The historically low interest rates of the past several years have helped sustain demand, and have mitigated the impact of the tightened lending criteria. The Bank of Canada has hinted at a rate increase in late 2015, and some experts have speculated that the increase could come as early as May. An interest rate hike could potentially result in a spike in buying activity, as buyers rush to secure their mortgage before the increase comes into effect. Overall, a rate increase is not anticipated to have a dramatic effect on the real estate market, as it would likely be minor and rates would continue to be low.
The economic outlook for Canada in 2015 is stable. The Bank of Canada has projected GDP to grow by approximately 2.5 per cent, a rate that is roughly on par with 2014's growth. Small increases in employment rates and wages are anticipated as well. Canada expects to welcome between 260,000 and 285,000 new permanent residents in 2015, which should positively impact the residential real estate market.
Outlook on Calgary:
Calgary's housing market had another year of healthy price appreciation as the average residential sale price has grown and is expected to finish off 2014 with an approximate six per cent gain to $483,000 from $456,000 in 2013. House price increases have been attributed to good employment in the energy sector driving migration to the city.
A city-wide Civic Census showed that in April 2014, Calgary saw the migration of approximately 28,000 people to the area in the past 12 months, an increase of about 1,800 compared to the previous year. Migration has significantly impacted the real estate market fueling Calgary's consistent strong performance over the past few years. However, in the fall of 2014, the housing market started to show a shift from a seller's market to a more balanced market, likely due to a decrease in oil prices.
The price adjustment in the energy industry should likely have an impact on the 2015 Calgary housing market. While it is still expected to see a slight increase in price, it is anticipated to be less active as potential buyers wait to see if lower oil prices result in more favourable house prices. However, RE/MAX expects 2015 to be a balanced market, creating a more level playing field for buyers and sellers. A combination of oil prices and dollar value should have the greatest impact on Calgary's housing market in 2015.
One advantage is that most oil industry corporations are being paid in the American dollar, thereby lessening the current effect of the low Canadian dollar.
Calgary is projected to see a four percent increase in unit sales and a more modest three per cent increase in average residential sale price increasing to $497,500.
Buyers who are looking to move up are likely to drive demand in Calgary's real estate market in 2015. Also, the low vacancy rate for rentals has made potential tenants look at purchasing sooner than they anticipated.
Condominiums and townhouses are expected to represent a growing share of the active marketplace, as long as they are priced competitively. With increasing house prices, condominiums and townhouses are an affordable way to purchase real estate in the city.
The city's growth is prompting optimism for its housing market in 2015. Today, the population is close to 1,195,000, and growing. There is a mild concern as to how the city will keep up with such growth, as new infrastructure will be required. Despite this need, it is anticipated that Calgary's real estate market should continue to flourish throughout 2015.
For more details and information, check out the Market Outlook for 2015 for all of Canada.