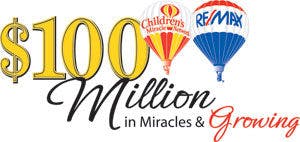 We believe that serving the communities in which we live and work allows us to not only contribute to the well-being of our society, but to also be concerned about the outcome of that contribution.
The RE/MAX – Children's Miracle Network affiliation began in 1986 when RE/MAX affiliates in Calgary, Alberta and the Quebec Region started raising funds for this worthy cause. In 1992, RE/MAX International adopted the Children's Miracle Network as its official corporate charity. Raising funds for hospitalized children, RE/MAX professionals to date have collectively contributed over $100 million to the cause.
In Canada, RE/MAX continues to be a strong corporate contributor to Children's Miracle Network – $3.7million in 2010. With funds contributed by national sponsors like RE/MAX, affiliated hospitals are able to provide needed medical care and equipment for more than 2.6 million Canadian children each year.
RE/MAX of Western Canada affiliates raise funds through community involvement such as the annual Children's Miracle Network broadcast, pancake breakfasts, golf tournaments, ride-a-thons, walk-a-thons and a myriad of other events. But the cornerstone of our involvement is the Miracle Home® Program whereby Team Penley McNaughton pledges a contribution derived from each transaction involving a RE/MAX Miracle Home®. 100% of our contribution helps sick and injured children from their community.
RE/MAX and Team Penley McNaughton chose the Children's Miracle Network as its international charity because…
The Mission Statement of Children's Miracle Network, an international non-profit organization, is to "Generate funds and awareness programs for the benefit of children served by its associated hospitals". An outstanding cause!
RE/MAX lists and sells homes with the very families whose children have been served, or may one day be served, by a Children's Miracle Network hospital. One in four Canadian children will be treated in a Children's Miracle Network hospital this year.
RE/MAX stands for quality service and for caring about the communities where its Associates live and work.
Visit Children's Miracle Network website at http://childrensmiraclenetwork.ca/